Junction Triangle Area Business Spotlight // Watermark Plumbing
It can be a real nuisance when something goes wrong with the plumbing in your home, like a leaky faucet, clogged drain, or weak water pressure in the shower. And it can be even more daunting to have to find a reliable plumber to help mitigate these issues.
There are plenty of plumbers out there, but not all of them are necessarily honest or trustworthy. Luckily, we're making the job of finding a trusted plumber a lot easier for you with this week's spotlight on local businesses in the Junction Triangle: Watermark Plumbing.
Initiated about a year and a half ago in the Junction Triangle area, Watermark Plumbing started off slowly but has since become a very busy and growing business. In fact, the company is accumulating a healthy growth of its roster of happy and satisfied clients who appreciate the honest price quotes and excellent service.
Watermark Plumbing can be found in the Junction Triangle Facebook group, where you'll find a growing list of fans sharing their positive experiences working with the experts behind the brand.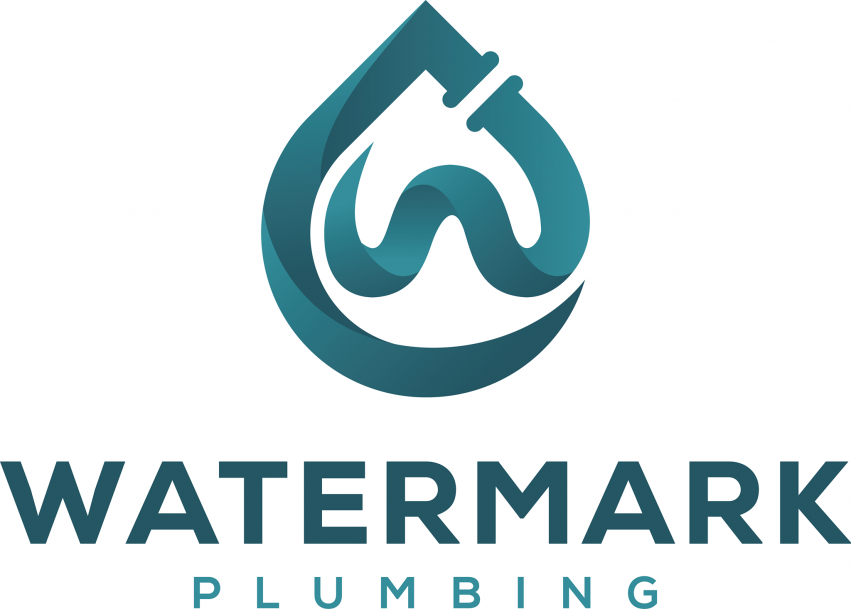 One unique trait that you'd be hard-pressed to find with other plumbers - or any other trade for that matter - is their series of "what NOT to call a plumber for." You'd think that they're trying to minimize business, but instead, their goal is to make sure all prospective clients are well informed about the issues that they're facing with the plumbing in their home before they call in the professionals.
One of the biggest issues with the trades is lack of transparency. It can be tough to find a trusted professional to let into your home. In many cases, homeowners may either do something wrong, make things worse, or cheat you out of money.
Image courtesy of Watermark Plumbing.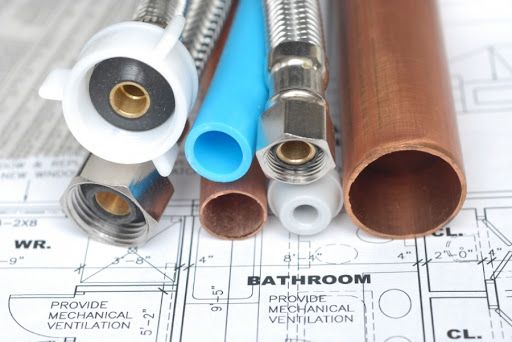 The honest advice provided through valuable information like this allows Watermark Plumbing to come across as trusted tradespeople, benefitting both the homeowner and the business.
On Watermark's Plumbing Facebook page, you'll find plenty of great reviews from past clients, as well as over 400 followers - and growing.
Image courtesy of Watermark Plumbing.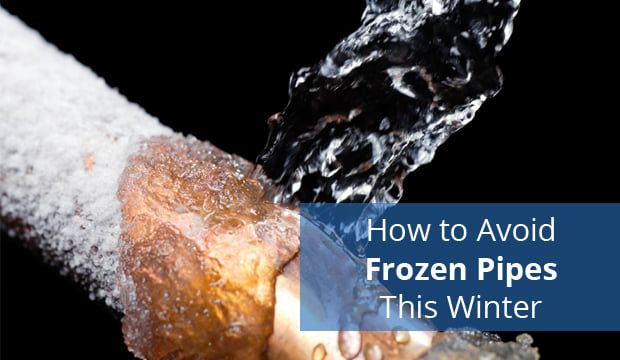 Geoff Burke - the mastermind behind Watermark Plumbing - has been in the plumbing business for about 10 years. Beginning as an apprentice doing new construction residential and commercial work, he eventually moved to a service-based company where they serviced larger commercial properties. From there, he started Watermark Plumbing.
Primarily a residential plumbing service company, Watermark Plumbing will repair anything that's going wrong with the plumbing in a home, from toilets, to sinks, to blocked drains, and beyond. They also touch on small renovations, though their focus is primarily on residential plumbing issues.
Image courtesy of Watermark Plumbing.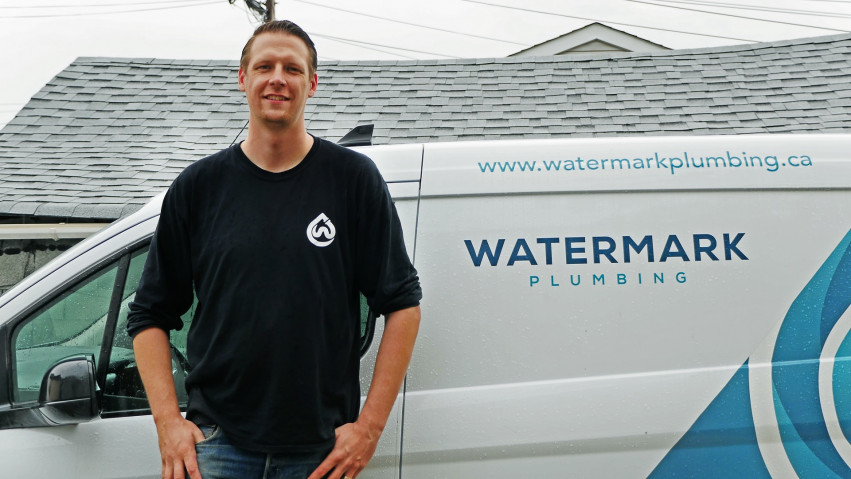 As you can see, Watermark Plumbing is unlike most other plumbing companies you may have come across, and their uniqueness doesn't stop there. In addition to providing the community with impeccable and honest plumbing services, Watermark Plumbing is also charitable at heart.
As an initiative for Halloween, the team at Watermark Plumbing started the "Candy Shoot Challenge," a fundraiser to help raise money for Daily Bread. For a minimum $25 donation, they are making and delivering candy shoots that are affixed to the handrails of the front steps of homes.
To deliver candy to trick-or-treaters while maintaining physical distance, homeowners send candy down through the shoot while standing at the top of the staircase, after which the candy is sent directly into the awaiting child's bag at the bottom of the stairs.
Image courtesy of Watermark Plumbing.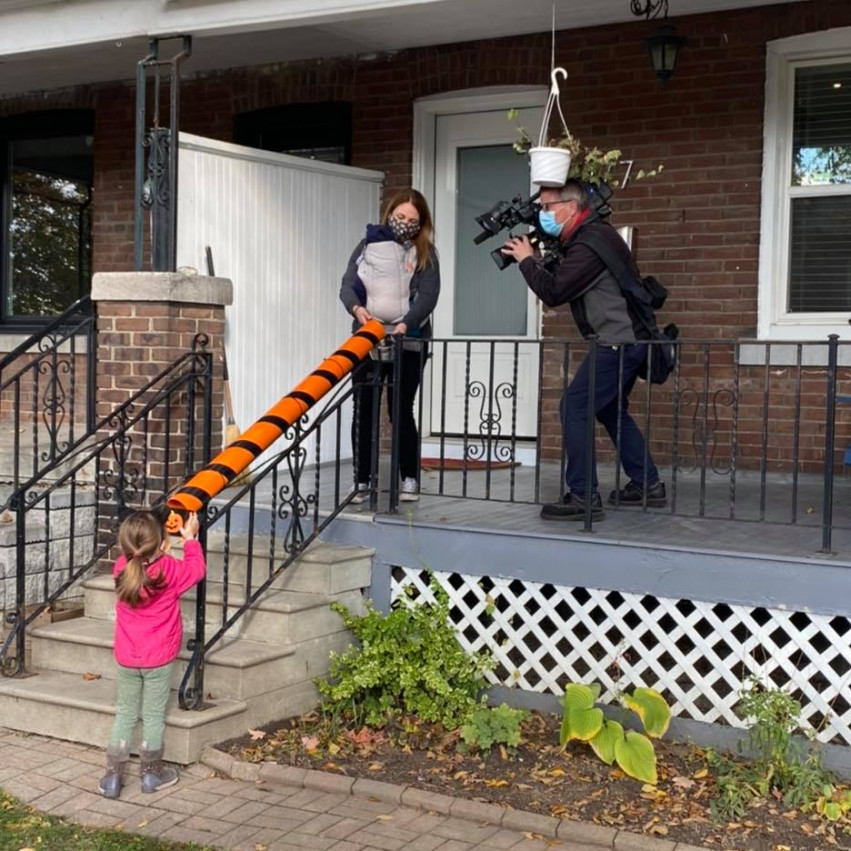 The fundraising initiative has soared in popularity. The team had to cap their Halloween-themed shoots to 400. The demand was so high that they simply couldn't keep up with any more! The team is hoping to raise a minimum of $10,000 for Daily Bread. Now that's philanthropy! And it's a testament to the power that local businesses in the Junction Triangle have when it comes to contributing to the betterment of the neighbourhoods and people they serve.
Image courtesy of Watermark Plumbing.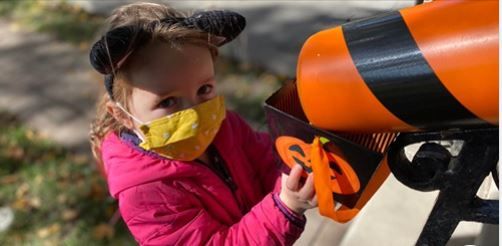 Just one more reason to call the Junction Triangle home!

Check out this video below!